Entertainment
The Full-Length Trailer For Solo: A Star Wars Story Is Finally Here
Solo: A Star Wars Story Trailer
| | |
| --- | --- |
| The Full-Length Trailer For Solo: A Star Wars Stor | Source: Lucasfilm |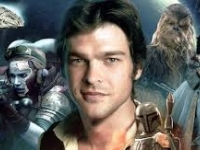 USPA NEWS - The long-awaited trailer has finally hit the ends of the galaxy, leaving fans questioning whether or not their anticipation is worthy, or if this will be another Star Wars film that will be added into the basket of the Prequel Trilogy.
Star Wars fans were given their first tease during Super Bowl LII, as the first official teaser trailer for, Solo: A Star Wars Story, dropped during an ad spot of the most watched television day of the year.

And, just like that, we're able to hear the cringe of the fanboys from millions of miles away, as the first, official, full-length trailer for the mysteriously kept film dropped on Monday morning, when Star Wars, and Good Morning America, paired up to tweet out to the galaxy. Honestly, we're not really sure what to think, or how to feel, and while we're definitely on the fence with this one, we hope for at least some good to come out of the second stand-alone Star Wars film, and for our favorite, scruffy-looking, nerf herder to be given the nod he is due.

If the unoriginal title wasn't enough, at least we got to take our first ride into the world of Solo, and now hold a better understanding of what we can come to expect out of such film. However, I think it's safe to say, "I've got a bad feeling about this."
Keywords: Star Wars, Solo, Entertainment, Film, Trailer, Movie, Movies, Lucasfilm
Liability for this article lies with the author, who also holds the copyright. Editorial content from USPA may be quoted on other websites as long as the quote comprises no more than 5% of the entire text, is marked as such and the source is named (via hyperlink).
| | |
| --- | --- |
| | RAHMA-SOPHIA RACHDI |
| | Robbie Merritt |
| | Ruby BIRD |
| | Yasmina BEDDOU |
| | Daren Frankish |